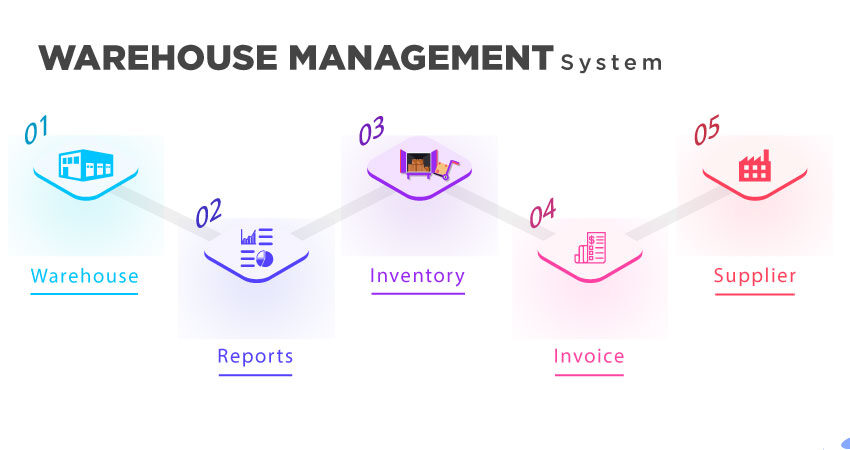 Introduction to Warehouse Software
Warehouse Software (WS) is software used by warehouse businesses to help them in managing operations. Warehouse management systems by Koncept Solutions help organizations in growing their competitive advantage.
WMS is used to minimize labor charges and also to improve customer services.
Cloud-based Warehouse Software has become so much popular because of its visibility of real-time data, showing inventory control. The best thing about warehouse software is that as long as the user has access to the web, they can use this software on computers, phones, tablets, etc.
Role of a Good Warehouse Management System
The Warehouse Software keeps track of the material/goods/products once it arrives at the warehouse. WMS is built to track the item from the start till it reaches the end customer.
WMS will again start tracking in case the customer returns the package until it reaches another end customer.
The functions of WMS include receiving goods, packing them, shipping goods, tracking the shipment, and editing its information. All these functions concurrently are known as supply chain.
Future of Warehouse Management System
Koncept Solution's Warehouse Software defines a new paradigm in the software industry. Our Software is a robust, next-generation warehouse solution that we customize for our clients at reasonable pricing. New supply chain management functionality provides innovative product features, mobile solutions, and a user-friendly interface.
Warehouse Software is used by businesses to facilitate and automate inventory fulfillment processes in addition to managing costs. A robust WMS system is Dynamic and easily configurable. It can leverage the cloud for rapid, cost-effective performance. To fully understand the Future of Warehouse Management System let us observe it's features.
The best features of WMS include:
1. Increased operational efficiency
The warehouse management system manages completion operations in the cloud. Supply chains have real-time visibility into their inventory control and operations. They are completing how their customers buy with appropriate technology.
2. A lower Total Cost of Ownership
Executing a cloud-based warehouse management system allows businesses to control their costs.
They eliminate extra costs as businesses no longer have to pay for expensive maintenance and upgrades.
3. Improved customer experience
Faster completion of tasks means a better customer experience and business. Customers have to make purchases from anywhere at any time. Warehouse management systems based in the cloud help businesses satisfy market facts' needs.
Warehouse Management Systems and Supply Chain
A WMS plays a crucial role in supply chain management by working on order fulfillment operations. These operations include acquiring raw materials to transporting finished goods.
It is because if the raw materials are obtained improperly, or parts are lost within warehouse operations, it will cause the supply chain to stop temporarily. Any delays in the supply chain will cost the company finances and consumers.
A WMS is designed so that the whole operation is in order.
The software tracks inventory and ensures that goods are stored, sorted correctly, shipped, and tracked. WMS of Koncept solutions also alerts you to inventory irregularities and identifies potential problems before they become damaging.
A WMS supply chain model typically applies an eCommerce platform to keep stock updated at all times, facilitating backorders and supplying consumer visibility.
Advantages of Koncept's Warehouse Management System
1. Streamlined Warehouse Inventory and Consumer Service Operations
In most cases, contact between warehouse workers and the customer service department is ineffective. This miscommunication between the departments results in time wastage.
Most WMS software has a centralized system that clarifies the warehouse and customer service departments. This clarification is essential so that all departments can track orders, fulfill deadlines, and ship procedures.
Through WMS, departments can also get customer feedback in real-time visibility, decreasing confusion, human error, and back-ups resulting in unsatisfied customers.
2. Accurate Inventory Counts and Tracking
Performing routine inventory measures ensure that the inventory is where it needs to be and also in the best condition. If not it will end up wasting both the time and money of the business.
WMS software usually permits members to maintain total frequency as easily by pressing a key or scanning a barcode.
Then, the Warehouse Management System tracks goods and inventory automatically as they move about, releasing up valuable time and reducing labor costs.
3. Improved Product Safety and Security
Warehouses working with submission or safety issues need to have a system capable of generating automated reports repeatedly. Automated reporting will ensure that everything is updated.
Our Koncept-WMS software is designed to identify potential problems with high-risk entities or high-value articles.
4. Scalability as Business Grows
For businesses with the goal of continuous growth, using Warehouse Software is an absolute requirement. In the absence of suitable WMS software, warehouse and inventory management will become even more complex as the business expands.
Also, you can customize warehouse management system software, so its capacity grows with the business. In this case, getting the best software for your business is best.
5. Faster Order Fulfillment
In today's market, consumer needs immediate delivery; hence a fast-shipping process is required. The consumer believes that unless the delivery is from a specific customized product, delivery time should be less than 3 hours.
The Warehouse Software can help you compete with top brands like Amazon and Walmart.
Efficient warehouse management software, operating in addition to barcode scanning, will allow your business to pick and pack orders much faster. Hence, reducing completion time and processing times.
6. Reduced Processing Costs
In business, whenever a user increases completion paces, it increases their worth by decreasing the operation costs. Be sure you estimate your consumer cost per order before executing a WMS to see first-hand the ROI you acquire due to reduced processing costs.
7. Reduced or Elimination of Errors
Any business without a Warehouse Software will cause humans to perform managerial activities, resulting in errors.
WMS connected with a barcoded inventory decreases the human factor, lowering the risk of mistakes.
When selecting, loading, and shipping products, the warehouse staff can do barcode scanning , and the WMS will notify in case a wrong product is delivered.
Features of good WMS solutions include automatically communicating inventory changes to other teams in real-time. Hence the errors are reduced or eliminated, and your consumer feedback will improve.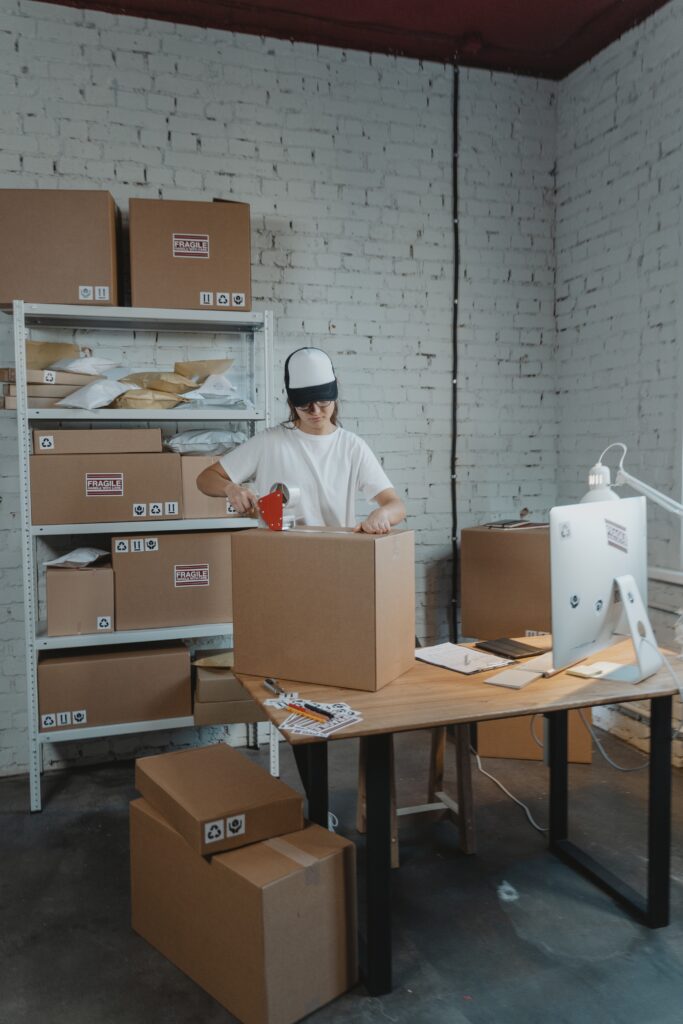 How to choose the best Warehouse Software for your Business
Before selecting any Warehouse Software , small and large businesses must calculate their budget. The total budget is based on the following factors
Hardware
Implementation
Infrastructure
IT labor
Licensing fees
Maintenance
Software
Some vendors in the market also provide integrable WMS solutions that often cover many of these costs. The business is primarily responsible for paying for the software, licensing, and one-time implementation costs.
Enlisted below is some information you must consider while choosing the Warehouse Software.
Function: Distinct WMS has different parts. Some WMS are designed for specific types of businesses. The companies need to identify their needs and choose accordingly.
Cost: Once you have decided on the functions of your WMS, the price is the second critical element when choosing a WMS a. The cost of WMS depends on its sophistication or its operations.
Customer Needs: Being in business, you must identify the shortcomings of your software. According to it, you can place the customer needs and choose the functions of WMS. This way, you can ensure that your customer receives the best services.
It is all about choosing/viewing parts of the WMS from the customer's point of view.
Warehouse Size: It is a common observation that an increase in the size of the warehouse inventory will increase the size of the warehouse management system.
WMS will be more complex to incorporate the needs of the big warehouses. You will have to update your software and select and add more functionalities to that software to meet the demand.
Benefits of a modern Warehouse Software
With the internet and digital technology have changed how customers make purchases. It has disrupted supply markets, transforming consumer buying patterns and adding complexity to the supply chain.
You can only fulfill the operations needed to meet the changes with a web-based solution.
Updating to the cloud in the warehouse management systems can complete the corresponding consumer with a related satisfaction solution that delivers real-time visibility, scalability, and market reactivity.
Fast Execution
It might be ideal to adjust rapidly to remain serious in the new satisfaction economy. You can increase your supply chain system with cloud-based Warehouse Software. Vital coordinated factors capacities are accessible in weeks rather than months.
Warehouse Software Cloud comes prepared to incorporate different frameworks to help complex, multichannel satisfaction processes.
It conveys a similar degree of usefulness of distribution center administration as an on-premises framework without the IT above.
Cloud innovation dispenses with the need to pay for equipment, programming, and IT experts to keep up with the framework. You are going rapidly at a more reasonable expense.
Cloud-Based WMS
You are reliant on the most recent programming variant with a cloud-based arrangement. Programming as-a-administration (SaaS) evaluation incorporates routinely booked refreshes and no IT foundation costs. Everything exists in the cloud. Refreshes work in basically the same manner as applications on cell phones, implying that clients generally have the most recent codebase at work.
Associate Operations-Lower Forthright Expenses
Multitenant, cloud-based arrangements have a practically quick profit from the venture and a lower all-out cost of exclusive. With the cloud, there's no requirement for equipment, programming, and IT-trained professionals. It comes prepared to coordinate with different frameworks to interface all your strategy processes from one finish to another.
Interestingly, an organization with an on-premises WMS could rapidly have paid for a few customizations and changes for more than five years. When the time has come to redesign, that organization checks out at complete reinstallation and setup.
With cloud-based Warehouse Software, there are never any updates or upkeep expenses. There are no IT foundation expenses or expenses for equipment, framework, or data set heads. The software specialists introduce, make due, and keep up with everything at Koncept International server ranches. What used to be a critical consumption is an anticipated and more reasonable working expense, empowering you to save your net revenues.
The adaptability of Warehouse Management Software
The present worldwide market requests speed. Koncept's cloud-based Warehouse Software allows you to rapidly grow your production network tasks to meet changing economic situations.
Scale on a case-by-case basis to deal with top seasons and oversee different changes. Whenever new open doors go along, you will be prepared. This business self-confidence is yours without addressing an on-premises cost.
Capital consumption for in-house equipment, programming, and work is killed. So, you can concentrate intently on your business, not your IT.
Conclusion
Koncept Solution's Warehouse Software is the industry's known warehouse management system. It is equipped with innovative product features, mobile solutions, and an easy-to-use interface. Have a look at one of our client case studies, how Koncept-solutions help them in achieving their business goals with warehouse management software.
Our WMS combines the speed and savings of the cloud with the most advanced warehouse control and fulfillment capabilities.